"This court can and should now put an end to the injustice of Happy's decades-long imprisonment at the Bronx Zoo and grant her freedom."  – NhRP filing
Today in our client Happy's case, the Nonhuman Rights Project filed a reply memorandum in which we rebutted the Bronx Zoo's latest memorandum (which argues our habeas corpus petition should be dismissed) and provided further support for the arguments we made upon the transfer of Happy's case from Orleans County to Bronx County. We also delivered to the Bronx County Supreme Court copies of the papers we filed in the Orleans County Supreme Court.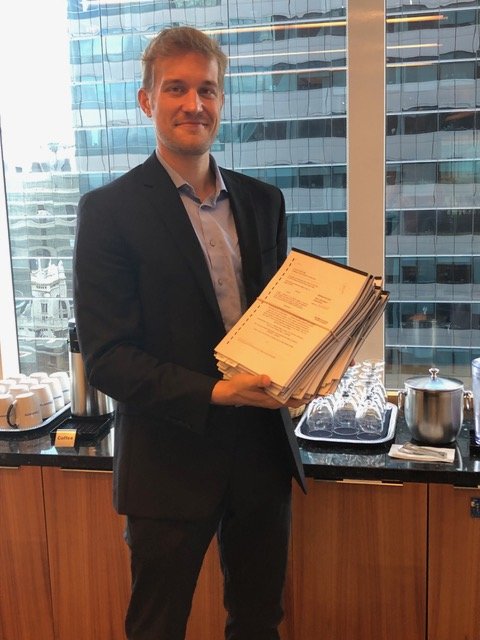 These steps are a precursor to the hearing that will take place on September 23rd before Bronx County Supreme Court Justice Alison Y. Tuitt, during which NhRP President and founder Steven M. Wise will argue the core merits of our habeas corpus petition—that Happy is a legal person with the fundamental right to liberty and must be immediately released to an elephant sanctuary. Members of our legal team will also argue multiple motions that haven't yet been ruled on (a motion is a procedural device that asks a court to make a decision about a limited, contested issue in a case).
In our reply memo, we detail the Bronx Zoo's persistent misunderstandings and mischaracterizations of our arguments, of prior rulings in our cases, and of existing New York precedent law as well as its general failure to respond to our arguments.
Perhaps most troublingly, the Bronx Zoo embraces the blatantly incorrect view of legal personhood articulated by two New York appellate courts in our chimpanzee rights cases, i.e. that to be a legal person with even a single right you have to be able to bear duties and responsibilities. Those legally erroneous decisions are not binding on the Bronx County Supreme Court, and Judge Eugene Fahey (who sits on New York's highest court) severely criticized them in a concurring opinion issued in 2018. As Judge Fahey made clear, the question of an autonomous nonhuman being's fundamental right to liberty is "a deep dilemma of ethics and policy that demands our attention."
We invite you to join us in court on the 23rd to show your support for Happy's right to liberty and release to a sanctuary. Further details coming soon!